Self-Confidence Chinese & Japanese Calligraphy Wall Scroll
Choose from many options to create artwork with Self-Confidence characters on a wall scroll or portrait.
If you want to create a cool Self-Confidence Asian character tattoo, you can purchase that on our Chinese and Japanese Tattoo Image Service page and we'll help you select from many forms of ancient Asian symbols that express the idea of self-confidence.

zì xìn

jishin

자신

自信 is created by simply putting the character for "faith/believe/confidence" with the character for "oneself" in front of it.

The literal translation holds the same meaning in English, Chinese and Japanese.

It's like a self-affirmation to say, "you can do it."

Some may also use this to mean self-esteem or a sense of self-worth. 自信 is also how to say, "believe in oneself."

zì xìn xīn

자신심

自信心 is the long title for self-confidence. It differs from the other version, only with the addition of the character for heart or soul at the end. With that addition, you could say this means self-confident heart.

xìn xīn

shin jin

신심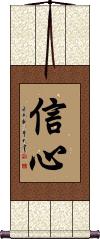 信心 is a Chinese, Japanese, and Korean word that means confidence, faith, or belief in somebody or something.

The first character means faith, and the second can mean heart or soul. Therefore, you could say this means "faithful heart" or "faithful soul."

In Korean especially, this word has a religious connotation.

In old Japanese Buddhist context, this was a word for citta-prasāda (clear or pure heart-mind).
In modern Japan (when read by non-Buddhists), this word is usually understood as, "faith," "belief" or "devotion."

zì shì

자시

自恃 means self-reliance but is often used to mean self-confidence or the state of being self-assured.

Basically this means you can rely on yourself (with a slight suggestion that others can rely on you as well).

The first character means "oneself" while the second means "to rely upon."

hǔ

tora

호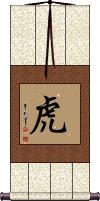 虎 is the character for tiger in Chinese, old Korean Hanja, and Japanese Kanji.

Since you already know what a tiger is, here's some trivia: If you look at the Japanese pronunciation, you might remember a movie called "Tora Tora Tora" which was the code word used to initiate the attack on Pearl Harbor. It simply means "Tiger Tiger Tiger."

In Chinese culture, the tiger is considered to be the king of all animals (in much the way we see the lion in western culture).

From the Chinese Zodiac, if you were born in the year of the tiger, you . . .

Have a strong personality.
Are full of self-confidence.
Love adventure
Don't like to obey others.
---
See also our Chinese Zodiac or Tiger Calligraphy pages.
The following table may be helpful for those studying Chinese or Japanese...
Title
Characters
Romaji

(Romanized Japanese)

Various forms of Romanized Chinese
Self-Confidence
自信
jishin
zì xìn / zi4 xin4 / zi xin / zixin
tzu hsin / tzuhsin
Self-Confidence
自信心
zì xìn xīn

---

zi4 xin4 xin1

---

zi xin xin

---

zixinxin
tzu hsin hsin

---

tzuhsinhsin
Confidence
Faithful Heart
信心
shin jin / shinjin
xìn xīn / xin4 xin1 / xin xin / xinxin
hsin hsin / hsinhsin
Self-Reliance
自恃
zì shì / zi4 shi4 / zi shi / zishi
tzu shih / tzushih
Tiger
虎
tora
hǔ / hu3 / hu
In some entries above you will see that characters have different versions above and below a line.
In these cases, the characters above the line are Traditional Chinese, while the ones below are Simplified Chinese.
All of our calligraphy wall scrolls are handmade.
When the calligrapher finishes creating your artwork, it is taken to my art mounting workshop in Beijing where a wall scroll is made by hand from a combination of silk, rice paper, and wood.
After we create your wall scroll, it takes at least two weeks for air mail delivery from Beijing to you.
Allow a few weeks for delivery. Rush service speeds it up by a week or two for $10!
When you select your calligraphy, you'll be taken to another page where you can choose various custom options.