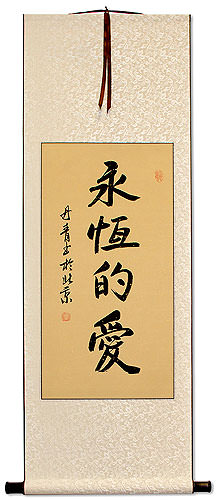 Approximate Measurements
Artwork Panel: 32.5cm x 63.2cm ≈ 12¾" x 24¾"
Silk/Brocade: 41.5cm x 118.5cm ≈ 16¼" x 46¾"
Width at Wooden Knobs: 50.5cm ≈ 19¾"




Eternal Love
Chinese Calligraphy Scroll
yǒng héng de ài
---
永恆的愛 is the best way to write "Eternal Love" in Chinese.

The first two characters mean eternal, eternally, everlasting, and/or perpetual.

The third character is a possessive article which sort of makes this selection mean "Love of the eternal kind".

The last character is "love".
---
If you click on the "Add to Cart" button, you will get the exact wall scroll pictured here, created by calligrapher Li Dan-Qing of Beijing.
All of our Chinese calligraphy scrolls are hand-painted with special Chinese ink on rice paper and then the wall scroll is built by hand using rice paper, silk, wood etc.
Chinese calligraphy is only practiced by those with a keen and agile hand. It is an art that dates back thousands of years, and great artists, writers, and poets are often admired for their calligraphy ability and style.
This hanging scroll is really nice since it doesn't require framing. Just hang it on your wall as Chinese people have done for centuries.
Want to customize your wall scroll? Just click here: Custom "Eternal Love" Wall Scroll
---
About the materials and construction of this painting:
The calligraphy was done using black Chinese ink on xuan paper (known incorrectly in the west as "rice paper"). The raw artwork was then taken to our Wall Scroll Workshop where it was laminated to more sheets of xuan paper, and built into a beautiful portrait with silk brocade border.
---
About the artist:
This calligraphy was created by Li Dan-Qing of Beijing. He's an older gentleman who has been involved with the art community of China, all of his life. Now in retirement, he creates calligraphy for us for sort of "hobby income".