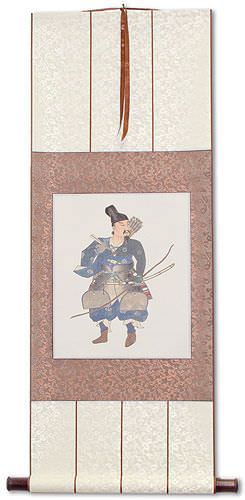 Approximate Measurements
Artwork Panel: 27.2cm x 32.7cm ≈ 10¾" x 12¾"
Silk/Brocade: 36cm x 95.5cm ≈ 14¼" x 37½"
Width at Wooden Knobs: 45cm ≈ 17¾"
Noble Japanese Archer Warrior
This wall scroll is discounted because of minor/tiny spots/specks in the silk panel.
I made a batch of these archer prints, but since the wall scrolls are made by hand, sometimes there are issues that slip by. I found a small black speck of something (possibly a black thread waded up) is sandwiched between the layer of silk brocade and paper backing on this scroll. It's only a couple millimeters in diameter, and not very noticeable unless you are looking for it. I slashed the price in half as I always over-do the discounts when I find a flaw. My loss is your gain.