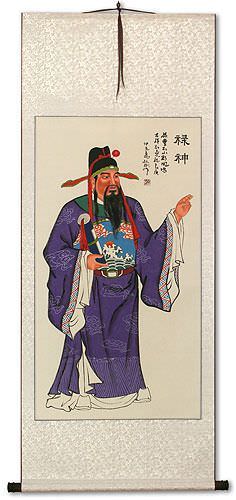 Approximate Measurements
Artwork Panel: 52.9cm x 96.8cm ≈ 20¾" x 38"
Silk/Brocade: 61.7cm x 153.2cm ≈ 24¼" x 60¼"
Width at Wooden Knobs: 70.7cm ≈ 27¾"
This is drastically discounted because of a minor flaw in the silk. I'm picky about quality, and you'd probably never find this flaw if I did not tell you about it. Therefore, this is a real bargain.


This is the God of Prosperity of China.
There's more than one God of Prosperity, so keep that in mind. This is "Lu Xing", or "Prosperity Star". Having this hung in your home should ensure that you receive good wages and opportunities.