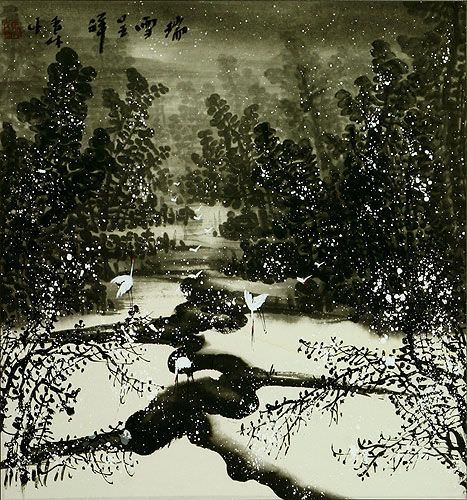 Approximate Measurements
Artwork Panel: 48.8cm x 52.4cm ≈ 19¼" x 20½"
Silk/Brocade Border: 59.1cm x 62.4cm ≈ 23¼" x 24½"
This painting did not pass my inspection. It has a very minor watermark line in the paper of the painting. I am really picky about quality, so I can't sell this at full price - so instead I am taking a big loss.

Many people (including the artists) believe that such watermarks are a natural and necessary part of this kind of watercolor paintings. Others even feel that is it proof of the handmade nature of the artwork. I still have to discount it to avoid any misunderstandings.
The Chinese title, 瑞雪呈祥 or "Ruì Xuě Chéng Xiáng" translates as "Lucky Snow, Very Auspicious" or "Timely Snow, Superior Auspiciousness".

This was painted by the artist 青林 (Qīng Lín) of southern China.

This is painted on special xuan paper (rice paper) with then mounted with a silk border.
Shipped to you in ready-to-frame condition.