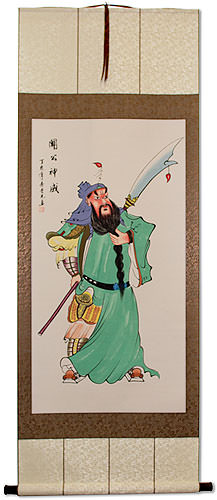 Approximate Measurements
Artwork Panel: 50cm x 95cm ≈ 19¾" x 37½"
Silk/Brocade: 59.2cm x 157cm ≈ 23¼" x 61¾"
Width at Wooden Knobs: 68.2cm ≈ 26¾"
Ancient Chinese Warrior Saint Guan Gong
Guan
Gong
Shen
Wei
This warrior's name is Guan Gong (at least that is what his friends call him). He was born with the name Guan Yu, but he earned the name "Gong" which is used to refer to a most respected person (You could also translate "Gong" as "Duke" in old English).
Much as Confucius is seen in China as the Saint of Philosophy, Guan Gong is known as the Saint of War.
He is known for not only for his status as a great warrior, but also being full of wisdom and knowledge.
He is the essence of what Chinese people call

or "yong" which means brave, courageous, and not afraid of difficulty.
The smaller Chinese characters include the Chinese name for the year painted (2007) as well as the artist's signature, "Liang Dao".
I originally found this artwork in late 2003 when I visited the artist's home town of Guilin in Southern China in the early Spring. He had just finished several of these large paintings of his favorite warrior.
After buying all that he had back then and promptly selling them, I didn't have a way to contact the artist to get more. Finally, I had a friend (whom happens to be the sister of another artist in Guilin) go and find this artist again for me. Several of these painting arrived in Beijing a couple months later, and have all be mounted to traditional hand-made wall scrolls and I've hand-carried all of them to the USA because they are too large to ship via air mail from China.