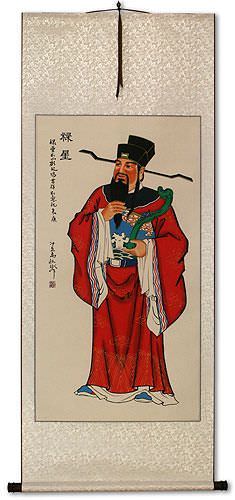 Approximate Measurements
Artwork Panel: 53.1cm x 98.8cm ≈ 21" x 38¾"
Silk/Brocade: 61.7cm x 151.6cm ≈ 24¼" x 59¾"
Width at Wooden Knobs: 70.7cm ≈ 27¾"


Lu Xing
This is the "Star God of Rank and Affluence", or "Good Fortune Saint" of China. This saint is often associated with Taoism / Daoism. Images of this saint can be seen around the doors of homes throughout China (especially during Chinese New Years). More info: Lu Xing Wikipedia page.
---
---
About the Art...
This is a very detailed painting that is mounted to a silk wall scroll. A lot of work went into this. It actually takes the artist about a half day to complete.
You won't be disappointed if you become the owner of this work of art. I guarantee it personally or your money back.
---
About the Artist...
The artist's name is



(Qing Jing-Bin). He was born in Guanxi Province (southern China). His specialty is paintings of mythological and historical figures of ancient China.