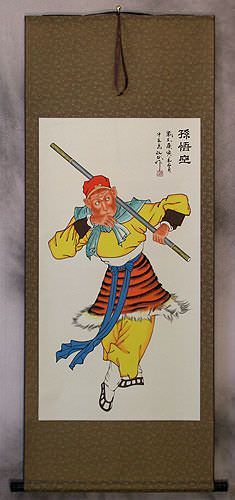 Approximate Measurements
Artwork Panel: 52.4cm x 97.8cm ≈ 20½" x 38½"
Silk/Brocade: 61.9cm x 153.8cm ≈ 24¼" x 60½"
Width at Wooden Knobs: 70.9cm ≈ 28"



Monkey King
If you love the novel, or the numerous movies that depict "The Journey to the West", then you know this frisky fellow.
The Monkey King is also known as "Sun Wukong", "Sun Wukung" and sometimes


(literally "Monkey King").
If you are looking for this artwork, you probably know a lot about the Monkey King. If you want to know more, here's the Wikipedia entry on the Monkey King: Wikipedia: Monkey King
---
---
About the Art...
This is a very detailed painting that is mounted to a silk wall scroll. A lot of work went into this. It actually takes the artist about a half day to complete.
You won't be disappointed if you become the owner of this work of art. I guarantee it personally or your money back.
---
About the Artist...
The artist's name is



(Qing Jing-Bin). He was born in Guanxi Province (southern China). His specialty is paintings of mythological and historical figures of ancient China.