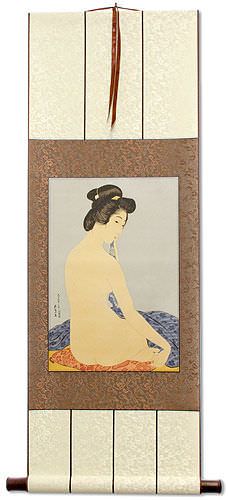 Approximate Measurements
Artwork Panel: 28.3cm x 42.1cm ≈ 11" x 16½"
Silk/Brocade: 37.3cm x 104.8cm ≈ 14¾" x 41¼"
Width at Wooden Knobs: 46.3cm ≈ 18¼"




Japanese Woman After Bath
Yokugo no Onna
This Japanese woodblock print reproduction features a woman drying herself with a small blue and white towel. She has finished her bath and relaxes in the nude upon an orange patterned cushion. She is in no rush, as there is no hurry at the bathhouse. This is a portrait of 小平とみ (Kodaira Tomi) a friend of the artist who was his model for several of his works.

This print comes from the serious, 女六題 or Six Subjects of Women.

The original artist is 橋口五葉 (Hashiguchi Goyō). The artist was the grandson of a samurai. He was born in Kagoshima City, Kyushu province. He graduated at the top of his class from the Tokyo Academy of Fine Arts. In 1915 he produced this, his first original woodblock print. Sadly, the artist died 6 years later of meningitis. During his short but promising art career, he published 14 prints. A few more of his works were produced as woodblock prints after his death.

Original artist: Hashiguchi Goyō / 橋口五葉 (1881-1921).
Publisher: Yuyudo / 悠々洞出版.
Carver: Takano Shichinosuke.
Printer: Somekawa Kanzō.
Original woodblock was created in Japan, July of 1920. Though this image is from a later printing.