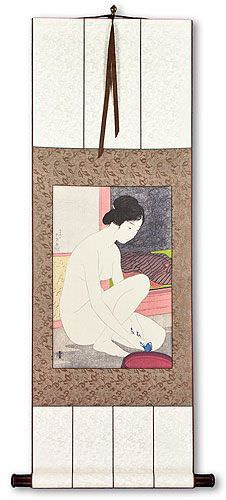 Approximate Measurements
Artwork Panel: 28.3cm x 42.2cm ≈ 11" x 16½"
Silk/Brocade: 37.4cm x 104.6cm ≈ 14¾" x 41¼"
Width at Wooden Knobs: 46.4cm ≈ 18¼"








Yokugo no Onna / Woman at the Bath
The Bathing Japanese Beauty
This Japanese woodblock print reproduction features a woman facing to the right as she engages in the traditional Japanese bathing regimen.

The widely-known Japanese title is 浴場の女 (Yokujō no onna) which roughly translates as "Bath Girl" or "Bath Woman". A secondary title from the publisher was 浴後裸女 (Yokugo rajo) meaning "After Bath Naked Woman" (Note: Direct translations from Japanese to English are not very poetic).

The original artist is 橋口五葉 (Hashiguchi Goyō). The artist was the grandson of a samurai. He was born in Kagoshima City, Kyushu province. He graduated at the top of his class from the Tokyo Academy of Fine Arts. In 1915 he produced this, his first original woodblock print. Sadly, the artist died 6 years later of meningitis. During his short but promising art career, he published 14 prints. A few more of his works were produced as woodblock prints after his death.

Original artist: Hashiguchi Goyō 橋口五葉 (1881-1921).
Publisher: Watanabe Shōzaburō.
Carver: Takano Shichinosuke.
Printer: Ono Gintarō.
Original woodblock was created in Japan, around 1915
I created this print using some really fibrous handmade paper. You will see husks and fibers in the paper. The dye-based inks should give you good longevity if you don't hang this in direct sunlight.