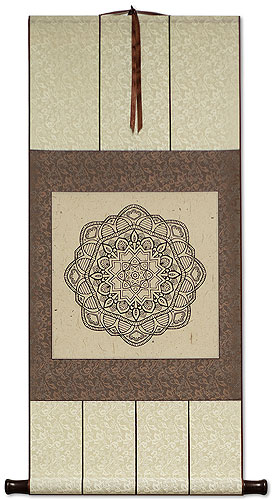 Approximate Measurements
Artwork Panel: 33cm x 33.2cm ≈ 13" x 13"
Silk/Brocade: 42.4cm x 95cm ≈ 16¾" x 37½"
Width at Wooden Knobs: 51.4cm ≈ 20¼"
Mandala
This features the framework of a mandala giclee printed on handmade grass-fiber paper. This is totally an experiment, but I thought maybe someone would want to color their own mandala by hand. This would be the ultimate adult coloring book (a book with only one page). Felt-tipped pens that are not too juicy (that don't bleed in the paper too much) will be best. Carefully lay this scroll out on a table so as not to wrinkle it during your creative time.

Once finished, hang it up in your meditation room or proudly display your creation elsewhere in your home.