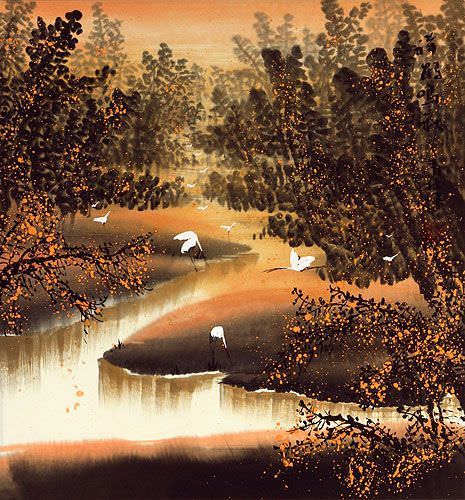 Approximate Measurements
Artwork Panel: 49cm x 52.2cm ≈ 19¼" x 20½"
Silk/Brocade Border: 59cm x 62.2cm ≈ 23¼" x 24½"




Auspicious Crane Song Announces Autumn
Xiáng Hè Míng Qiū
This painting features many white cranes frolicking in a new Autumn morning.

The Chinese title, 祥鶴鳴秋 or "Xiáng Hè Míng Qiū" translates as "Auspicious Crane Song [Announces] Autumn".

This was painted by the artist 青林 (Qīng Lín) of southern China.

This is painted on special xuan paper (rice paper) with then mounted with a silk border.
Shipped to you in ready-to-frame condition.