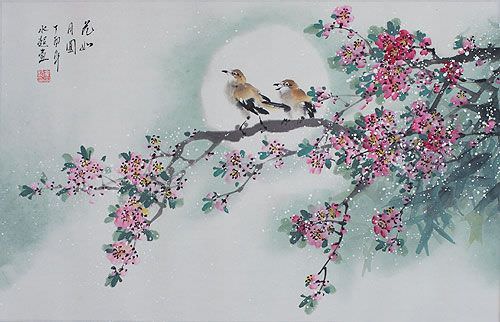 Approximate Measurements
Artwork Panel: 68.5cm x 44.5cm ≈ 27" x 17½"
Silk/Brocade Border: 77.5cm x 53.5cm ≈ 30½" x 21"




Birds and Plum Blossom Full Moon Painting
This painting features birds on a plum tree branch with a moonlit background. The plum blossoms represent early spring and the beauty of a woman in Chinese culture.
The title, 花好月圓 or "Huā Hǎo Yuè Yuán", means, "Full Moon, Fantastic Flowers".

By artist 水超 (Shuǐ Chāo). In the inscription between the title and the artist's signature, 丁酉年 indicates this was painted in 2017.