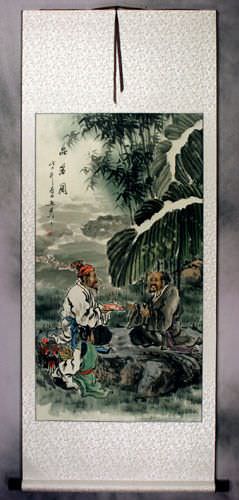 Approximate Measurements
Artwork Panel: 52.8cm x 97.5cm ≈ 20¾" x 38¼"
Silk/Brocade: 62cm x 153.2cm ≈ 24½" x 60¼"
Width at Wooden Knobs: 71cm ≈ 28"
Price Reduced!!!



High Grade Young Tea
This depicts men enjoying tea. The title suggests that it is a quality white tea (tea made from very young leaves). In the foreground, these two noble men have a servant boy tending the fire and brewing the tea for them. The scene suggests that these men are enjoying the tea and discussing philosophy or poetry (very common activities in ancient China before TV was invented).
After the title "Quality Young Tea Leaves", the rest of the Chinese characters indicate the year painted (2008) and the artist's signature.
---
About the artist...
The artist's name is



(Wang Wen-Hua) who lives in the Jinan area of Shandong Province in Northern China. He specializes in traditional figure paintings and subjects like this (especially Buddhism and philosophy-related themes).
---
About the Art
This was painted on Chinese xuan paper (often incorrectly called "rice paper"). The artist used watercolors throughout.

After buying this from the artist in Jinan, I rolled it up in a tube, and put it in my backpack. I then took the 5-hour-train ride back to our workshop in Beijing. At the workshop, it was laminated to more sheets of xuan paper and silk brocade was added in the process of building this handmade wall scroll. See more about building handmade wall scrolls