Ships from:

This artwork is
100% hand-painted.
Abstract Yin Yang Koi Fish
Big Wall Scroll
---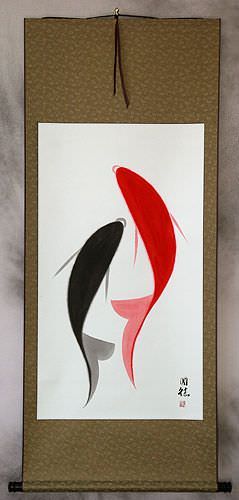 Approximate Measurements
Artwork Panel: 53.6cm x 95.7cm ≈ 21" x 37¾"
Silk/Brocade: 63cm x 151cm ≈ 24¾" x 59½"
Width at Wooden Knobs: 72cm ≈ 28¼"
Information about caring for your wall scroll

See Larger Image
Reason for discount: Very minor mark in the painting.
This item was listed or modified
Mar 11th, 2014

Printer Friendly
Version
Gary's random little things about China:
I pee freely:
If you come to China, save your small change...
In Beijing, the government recently passed a law against charging money for using a public toilet.
However, in other cities and towns around China, expect to pay between 2-5 mao (about 3-5 cents) for the use.
Bring your own toilet paper, or expect to pay 5 mao for a small pack of tissue as you enter.

In my opinion, the best public toilet in all of China is at Tian'anmen Square.
This public restroom is not only clean, but also features its own gift shop.