Buy a Courtesy Chinese/Japanese Calligraphy Wall Scroll
We have many options to create artwork with Courtesy characters on a wall scroll or portrait.
See also: Respect

In Chinese, old Korean Hanja, and old Japanese Kanji, 禮儀 means "etiquette" or "courtesy."

You'll also find a Japanese entry on our website, which uses a modern/simplified first Kanji. The characters shown here compose the best choice if your audience is Chinese or Korean - but also acceptable if you want an ancient-style Japanese scroll (in modern Japanese, it has the same pronunciation, but is written 礼儀).

Note: This can also be translated as propriety, decorum, or formality.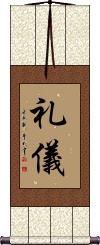 In Japanese, 礼儀 means "manners," "courtesy," or "etiquette."

This also clearly means etiquette in Chinese, though the first Japanese Kanji has been "modernized" and happens to be the same as the modern Simplified Chinese version. Therefore, this word will be understood by both Japanese and Chinese people but best if your audience is mostly Japanese (Chinese people would generally prefer the ancient Traditional Chinese version).
---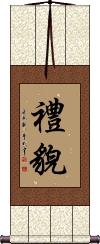 禮貌 is a Chinese and old Korean word that means courtesy or politeness.

Courtesy is being polite and having good manners. When you speak and act courteously, you give others a feeling of being valued and respected. Greet people pleasantly. Bring courtesy home. Your family needs it most of all. Courtesy helps life to go smoothly.
---
If you put the words "fēi cháng bù" in front of this, it is like adding "very much not." it's a great insult in China, as nobody wants to be called "extremely discourteous" or "very much impolite."
---
The following table may be helpful for those studying Chinese or Japanese...
Title
Characters
Romaji

(Romanized Japanese)

Various forms of Romanized Chinese
Courtesy
Etiquette
禮儀

---

礼仪
lǐ yì / li3 yi4 / li yi / liyi
li i / lii
Courtesy
Etiquette
礼儀 / 禮儀

---

礼仪
rei gi / reigi
lǐ yì / li3 yi4 / li yi / liyi
li i / lii
Courtesy
Politeness
禮貌

---

礼貌
lǐ mào / li3 mao4 / li mao / limao
In some entries above you will see that characters have different versions above and below a line.
In these cases, the characters above the line are Traditional Chinese, while the ones below are Simplified Chinese.
All of our calligraphy wall scrolls are handmade.
When the calligrapher finishes creating your artwork, it is taken to my art mounting workshop in Beijing where a wall scroll is made by hand from a combination of silk, rice paper, and wood.
After we create your wall scroll, it takes at least two weeks for air mail delivery from Beijing to you.
Allow a few weeks for delivery. Rush service speeds it up by a week or two for $10!
When you select your calligraphy, you'll be taken to another page where you can choose various custom options.
Chinese courtesy names
Chinese courtesy names. A dialog from the H-Asia list, January 1996. Date: January 11, 1996 ... him by courtesy name + Xiansheng, rather than surname, if...
Translating Simplified Chinese
...professional Simplified Chinese Translation at ... Chinese translation is not a simple ... China, translations will be need to be in Simplified Chinese.
Chinese Laborers and the Construction of the Central Pacific
Chinese Laborers and the Construction of the Central Pacific. By George Kraus. Utah Historical Quarterly, Winter 1969, Volume 37, Number 1, pages 41-57.
CHINESE-AMERICAN CONTRIBUTION TO TRANSCONTINENTAL RAILROAD
Chinese labor was suggested, as they had already helped build the California ... entitled "Chinese Cutting a Path for a Track Around 'Cape Horn'" courtesy of the...
Chinese Geese
Chinese Geese "Paté," my old Brown China gander ... Photo courtesy of Beth Upton. And for balance, a flock of Brown Chinas. Photo courtesy of Julie Hendricks...
purevolume_ | Courtesy Of
PureVolume is the place for rising artists to host their ... Courtesy Of. Recent Blogs. Feb 27, 2006 - New Cd: 35 Chinese. PHOTOS. BLOG. New Cd: 35 Chinese...
Japanese Guest Houses - Kankaso
Reserve a Room at Kankaso, Nara Ryokan, Nara ... Japanese Garden at Kankaso (courtesy of IL, CP, New Orleans, Louisiana, USA) Location: Nara...
Japanese Expressions of Courtesy
Japanese courtesy expressions: What to say when you meet someone for the first time ... Japanese Language Textbook Page 12: Click to download PDF. Japanese...
Japanese Guest Houses - Iwaso
Reserve a Room at Iwaso, Miyajima ... Room at Iwaso (courtesy of MR, Fairfax, ... daiku" style which means by craftsmen who built Japanese shrines.
Takase Studios - Fine Japanese Calligraphy
Work directly with Master Japanese Calligrapher Eri Takase to create custom art.
... brand of traditional Japanese calligraphy has been ... Japanese Scrolls...
Introducting oneself politely in Japanese
Japanese courtesy expressions: introducing oneself politely to ... Dictionary. EJOD Searchable Online Dictionary. English-Japanese Dictionary ... Japanese...
Perang Dunia II: 1940 to 1945
Some Japanese extremists had talked about building an empire in the Pacific in ... The bloc would be controlled by the Japanese military.
ENABLING JAPANESE UNDER ENGLISH OS/2
Information about how to display and work with Japanese under English-language OS/2.
... Search Engines in Japan-Japanese Courtesy of Ingrid...
Japanese hardware sales, 11 Dec - 17 Dec: Christmas courtesy edition - Joystiq
...the writer of this article realize the Japanese people don't celebrate christmas.
... In fact, the original Japanese web page on Media Create's site that these...
Courtesyparts.com - Genuine Nissan Parts, Accessories, NISMO and Nissan Motorsports
We are Courtesy Nissan in Richardson (Dallas) Texas, a Nissan dealership offering factory OEM and after-market performance parts and accessories...
Japanese Terrier Information, Japanese Terriers
Japanese Terrier, Dog Breed Information Center®, Japanese Terriers ... Ingredient : four Japanese Terrier puppies of 850 grams. Photo Courtesy of Arianova Kennel.