Double Happiness Chinese Calligraphy Wall Scroll
This is the symbol of a happy marriage in China and Korea.
---
---
Double Happiness
(Happy wedding and marriage)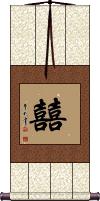 囍 is a common gift for Chinese couples getting married or newly married couples.

As we say in the west, "Two heads are better than one" Well, in the east, two "happinesses" are certainly better than one.

Some will suggest this is a symbol of two happinesses coming together. Others see it as a multiplication of happiness because of the union or marriage.

囍 is not really a character that is pronounced very often - it's almost exclusively used in written form. However, if pressed, most Chinese people will pronounce this "shuang xi" (double happy) although literally there are two "xi" characters combined in this calligraphy (but nobody will say "xi xi").



If you select this character, I strongly suggest the festive bright red paper for your calligraphy. Part of my suggestion comes from the fact that red is a good luck color in China, and this will add to the sentiment that you wish to convey with this scroll to the happy couple.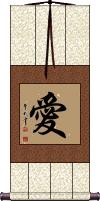 愛 universally means love in Chinese, Japanese Kanji, old Korean Hanja, and old Vietnamese.

愛 is one of the most recognized Asian symbols in the West and is often seen on tee shirts, coffee mugs, tattoos, and more.

愛 can also be defined as affection, to be fond of, to like, or to be keen on. It often refers to romantic love, and is found in phrases like, "I love you." But in Chinese, one can say, "I love that movie" using this character as well.

This can also be a pet name or part of a pet name in the way we say "dear" or "honey" in English.

This can be a girl's name "Ai" in both Chinese and Japanese.
---
More about this character:

This may be hard to imagine as a westerner but the strokes at the top of this love character symbolize family & marriage.



The symbol in the middle is a little easier to identify. It is the character for "heart" (it can also mean "mind" or "soul"). I guess you can say that no matter if you are from the East or the West, you must put your heart into your love.



The strokes at the bottom create a modified character that means "friend" or "friendship."

I suppose you could say that the full meaning of this love character is to love your family, spouse, and friends with all of your heart, since all three elements exist in this character.
---
See Also: I Love You | Caring | Benevolence | Friendliness | Double Happiness Happy Marriage Wall Scroll
Double Happiness Guest Book
Customize a special Asian guest book for your wedding

Start customizing a "Double Happiness Guest Book Wall Scroll" Here!

The paper panel length can be whatever you choose from 68cm to 135cm (27" to 53").

If you don't mention what paper length you want in the special instructions tab (on the next page), we'll make it about 100cm (40").

The medium-size scroll with a 33cm x 100cm (13" x 40") paper panel can usually handle up to 89 signatures. That breaks down to 37 signatures per empty square and 15 signatures around the 囍 character. If you switch to a 135cm paper panel, add another 37 potential signatures.

We can splice two 135cm papers together, but that would be a crazy-long scroll. These are only estimates, your mileage may vary.

With silk panels, this will yield a wall scroll about 155cm (61") long. That's enough for up to 89 signatures. Of course, that depends on if your guests just sign a brief salutation and name, or more verbose good wishes. Customer feedback is that 126 people can sign the 135cm long paper on a medium-sized scroll. If we go bigger than that, there will be a minor paper seam and an extra charge. Email me with your specifications if you need something special.

Most customers pick the festive red paper with gold flecks and white or ivory silk. Red is a good luck color in Chinese culture, thus the most popular choice. But, you can do any color combination that you want.

There is a long history of Chinese-character-use outside of mainland China. This Double Happiness character is also seen at weddings in Korea, Vietnam, Hong Kong, and Taiwan, as well as in Chinese communities in Thailand, Indonesia, and elsewhere. While Japan borrowed Chinese characters into their language, you won't see 囍 as often at Japanese weddings.
50th Golden Wedding Anniversary

幸福金婚 means "Happy Golden Anniversary" and is a great gift for a couple who is celebrating 50 years together.

The first two characters mean happy, blessed, or happiness.

The last two characters mean "couple's golden anniversary." It means "golden wedding" or "golden marriage," but this is only used for the 50-year-mark of a marriage (the same way we use gold to represent 50 years in the west).

幸福金婚 is a nice title to use with an inscription. You could request something like, "Happy 50th Anniversary, Mr. and Mrs. Smith," to be written down the side of this title in smaller Chinese characters.
---
Please note: This can be pronounced and understood in Japanese but not as commonly used in Japan. Japanese people who read this will understand it but might tend to feel it's of Chinese origin.

伴侶 is a Chinese, Japanese, and old Korean word that expresses the kind of partnership in which a good marriage is founded.

伴侶 could also be translated as mates or companionship or as a noun to refer to a partner or companion.

This does not have to include marriage but at least refers to a partnership with a deep relationship or bond.
---
Note that this is not the same as a business partner. Different words are used for various types business partnerships.
---
See Also: Friendship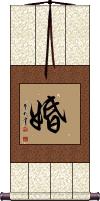 婚 is related to the ideas of getting married, being in a marriage, or taking a wife (could also mean take a husband, as "take a wife" is a western term, and this is just a general Chinese term regarding a wedding).
---
See Also: Double Happiness
Wedding / Getting Married

結婚 is a word that means wedding or getting married.

In some context, 結婚 can just be read as "marriage."
---
See Also: Double Happiness | Partnership: Marriage
This in-stock artwork might be what you are looking for, and ships right away...
The following table may be helpful for those studying Chinese or Japanese...
Title
Characters
Romaji

(Romanized Japanese)

Various forms of Romanized Chinese
Double Happiness
囍

---

喜喜
xǐ / xi3 / xi
hsi
Love
愛

---

爱
ai
ài / ai4 / ai
Double Happiness Guest Book
囍

---

喜喜
xǐ / xi3 / xi
hsi
50th Golden Wedding Anniversary
幸福金婚 / 倖福金婚

---

幸福金婚
kou fuku kin kon

---

koufukukinkon

---

ko fuku kin kon
xìng fú jīn hūn

---

xing4 fu2 jin1 hun1

---

xing fu jin hun

---

xingfujinhun
hsing fu chin hun

---

hsingfuchinhun
Partnership: Marriage
伴侶

---

伴侣
hanryo
bàn lǚ / ban4 lv3 / ban lv / banlv
pan lü / panlü
Wedding
婚
hūn / hun1 / hun
Wedding
Getting Married
結婚

---

结婚
kettukon / kekkon

---

kettukon / kekon
jié hūn / jie2 hun1 / jie hun / jiehun
chieh hun / chiehhun
In some entries above you will see that characters have different versions above and below a line.
In these cases, the characters above the line are Traditional Chinese, while the ones below are Simplified Chinese.
Many custom options...




And formats...




All of our calligraphy wall scrolls are handmade.
When the calligrapher finishes creating your artwork, it is taken to my art mounting workshop in Beijing where a wall scroll is made by hand from a combination of silk, rice paper, and wood.
After we create your wall scroll, it takes at least two weeks for air mail delivery from Beijing to you.
Allow a few weeks for delivery. Rush service speeds it up by a week or two for $10!
When you select your calligraphy, you'll be taken to another page where you can choose various custom options.