Buy an I Love You Chinese Calligraphy Wall Scroll
We have many options to create artwork with the Chinese characters / Asian symbols / Japanese Kanji for I Love You on a wall scroll or portrait.
---
---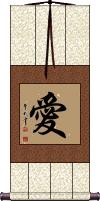 愛 universally means love in Chinese, Japanese Kanji, old Korean Hanja, and old Vietnamese.

愛 is one of the most recognized Asian symbols in the West and is often seen on tee shirts, coffee mugs, tattoos, and more.

愛 can also be defined as affection, to be fond of, to like, or to be keen on. It often refers to romantic love, and is found in phrases like, "I love you." But in Chinese, one can say, "I love that movie" using this character as well.

This can also be a pet name or part of a pet name in the way we say "dear" or "honey" in English.

This can be a girl's name "Ai" in both Chinese and Japanese.
---
More about this character:

This may be hard to imagine as a westerner but the strokes at the top of this love character symbolize family & marriage.



The symbol in the middle is a little easier to identify. It is the character for "heart" (it can also mean "mind" or "soul"). I guess you can say that no matter if you are from the East or the West, you must put your heart into your love.



The strokes at the bottom create a modified character that means "friend" or "friendship."

I suppose you could say that the full meaning of this love character is to love your family, spouse, and friends with all of your heart, since all three elements exist in this character.
---
See Also: I Love You | Caring | Benevolence | Friendliness | Double Happiness Happy Marriage Wall Scroll

It's very uncommon (some will say taboo) to say "I love you" in Japanese culture. It's especially awkward for a man to tell a woman this in Japanese. Everyone is more likely to say "Watashi wa anata ga suki desu" or "I like you" (literally, "I regarding you, have like."

If you have to say "I love you" in Japanese, 愛してる is a selection of Kanji and Hiragana that provide a way.
---
Note: Because this selection contains some special Japanese Hiragana characters, it should be written by a Japanese calligrapher.

Some people like to say, "I love you" but others might want to say "I need you." 貴方が必要 is "I need you" in Japanese.

The first two characters mean "You."

The middle character is a connecting particle. In this case, it more or less means "are."

The last two characters mean necessary, needed, essential, indispensable, or necessity.

The "I" in the title is implied. Effectively this means "I need you."
The following table may be helpful for those studying Chinese or Japanese...
Title
Characters
Romaji

(Romanized Japanese)

Various forms of Romanized Chinese
I Love You
我愛你

---

我爱你
wǒ ài nǐ

---

wo3 ai4 ni3

---

wo ai ni

---

woaini
Love
愛

---

爱
ai
ài / ai4 / ai
I Miss You
我想你
wǒ xiǎng nǐ

---

wo3 xiang3 ni3

---

wo xiang ni

---

woxiangni
wo hsiang ni

---

wohsiangni
I Need You
我需要你
wǒ xū yào nǐ

---

wo3 xu1 yao4 ni3

---

wo xu yao ni

---

woxuyaoni
wo hsü yao ni

---

wohsüyaoni
I Love You
Aishiteru
愛してる
ai shi te ru

---

aishiteru
I Need You
貴方が必要
ana ta ga hitsu you

---

anatagahitsuyou

---

ana ta ga hitsu yo
In some entries above you will see that characters have different versions above and below a line.
In these cases, the characters above the line are Traditional Chinese, while the ones below are Simplified Chinese.
All of our calligraphy wall scrolls are handmade.
When the calligrapher finishes creating your artwork, it is taken to my art mounting workshop in Beijing where a wall scroll is made by hand from a combination of silk, rice paper, and wood.
After we create your wall scroll, it takes at least two weeks for air mail delivery from Beijing to you.
Allow a few weeks for delivery. Rush service speeds it up by a week or two for $10!
When you select your calligraphy, you'll be taken to another page where you can choose various custom options.