Buy an Energy Chinese or Japanese Calligraphy Wall Scroll
We have many options to create artwork with the Chinese characters / Asian symbols / Japanese Kanji for Energy on a wall scroll or portrait.
---
---
Life Energy / Spiritual Energy
Chi Energy: Essence of Life / Energy Flow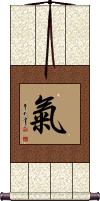 This 氣 energy flow is a fundamental concept of traditional Asian culture.

氣 is romanized as "Qi" or "Chi" in Chinese, "Gi" in Korean, and "Ki" in Japanese.
Chi is believed to be part of everything that exists, as in "life force" or "spiritual energy." It is most often translated as "energy flow" or literally as "air" or "breath." Some people will simply translate this as "spirit," but you must consider the kind of spirit we're talking about. I think this is weighted more toward energy than spirit.

The character itself is a representation of steam (or breath) rising from rice. To clarify, the character for rice looks like this:


Steam was apparently seen as visual evidence of the release of "life energy" when this concept was first developed. The Qi / Chi / Ki character is still used in compound words to mean steam or vapor.
The etymology of this character is a bit complicated. It's suggested that the first form of this character from bronze script (about 2500 years ago) looked like these samples:



However, it was easy to confuse this with the character for the number three. So the rice radical was added by 221 B.C. (the exact time of this change is debated). This first version with the rice radical looks like this:


The idea of Qi / Chi / Ki is really a philosophical concept. It's often used to refer to the "flow" of metaphysical energy that sustains living beings. Yet there is much debate that has continued for thousands of years as to whether Qi / Chi / Ki is pure energy or consists partially or fully of matter.

You can also see the character for Qi / Chi / Ki in common compound words such as Tai Chi / Tai Qi, Aikido, Reiki, and Qi Gong / Chi Kung.

In the modern Japanese Kanji, the rice radical has been changed into two strokes that form an X.



The original and traditional Chinese form is still understood in Japanese, but we can also offer that modern Kanji form in our custom calligraphy. If you want this Japanese Kanji, please click on the character to the right instead of the "Select and Customize" button above.
---
More language notes: This is pronounced like "chee" in Mandarin Chinese, and like "key" in Japanese.
This is also the same way to write this in Korean Hanja where it is Romanized as "gi" and pronounced like "gee" but with a real G-sound, not a J-sound.
Though Vietnamese no longer use Chinese characters in their daily language, this character is still widely known in Vietnam.
---
See Also: Life Force | Vitality | Life | Birth | Soul
Dynamic Energy / Enthusiasm

活力 is a Chinese, Japanese, and Korean word that can be defined as energy, vitality, vigor, vital force, enthusiasm, energetic, or dynamism.
Dynamic Energy / Enthusiasm
Strength / Vigor / Energy
Physical Strength

氣力 can mean any of the words in the title above, and in some contexts, can also mean effort, will-power, or talent.

This refers mostly to physical strength (as opposed to mental or spiritual).
---

In modern Japan, they use a simplified first character for this word. If you want to order this title with that special Japanese version, click on the character to the right instead of the button above.

This Chinese, Korean and Japanese word means "life force" or simply "life."

The first character means "life" or "birth." The second means "life" or "fate." Together they create the meaning of "life force," though some will translate this as "existence" and sometimes "vitality."
---

生命力 can mean "vitality" or "libido."

The first two characters mean "life" or "life force." The last character is a common word that means "strength." So together, you get the meaning of "life strength" which is the essence of vitality.

Some will also translate this word as "good health."
---
See Also: Life Force | Health
This in-stock artwork might be what you are looking for, and ships right away...
The following table may be helpful for those studying Chinese or Japanese...
Title
Characters
Romaji

(Romanized Japanese)

Various forms of Romanized Chinese
Life Energy
Spiritual Energy
氣

---

气 / 気
ki
qì / qi4 / qi
ch`i / chi
Dynamic Energy
Enthusiasm
活力
katsuryoku
huó lì / huo2 li4 / huo li / huoli
Dynamic Energy
Enthusiasm
活力四射
huó lì sì shè

---

huo2 li4 si4 she4

---

huo li si she

---

huolisishe
huo li ssu she

---

huolissushe
Strength
Vigor
Energy
氣力

---

气力 / 気力
kiryoku
qì lì / qi4 li4 / qi li / qili
ch`i li / chili / chi li
Life Force
生命
seimei / inochi
shēng mìng

---

sheng1 ming4

---

sheng ming

---

shengming
Electricity
Lightning
電

---

电
den
diàn / dian4 / dian
tien
Electricity
Lightning
電氣

---

電気
den ki / denki
Vitality
生命力
seimeiryoku
shēng mìng lì

---

sheng1 ming4 li4

---

sheng ming li

---

shengmingli
In some entries above you will see that characters have different versions above and below a line.
In these cases, the characters above the line are Traditional Chinese, while the ones below are Simplified Chinese.
Many custom options...




And formats...




All of our calligraphy wall scrolls are handmade.
When the calligrapher finishes creating your artwork, it is taken to my art mounting workshop in Beijing where a wall scroll is made by hand from a combination of silk, rice paper, and wood.
After we create your wall scroll, it takes at least two weeks for air mail delivery from Beijing to you.
Allow a few weeks for delivery. Rush service speeds it up by a week or two for $10!
When you select your calligraphy, you'll be taken to another page where you can choose various custom options.