Guanyin Buddha Print
Wall Scroll


• Delivered to you in Ashburn by Apr 3rd.
• Standard shipping is just $3.80 for any order.
• Just 1 in stock now.
• Fine Art Giclée Print.
• Handmade Wall Scroll.
• Money-Back Guarantee.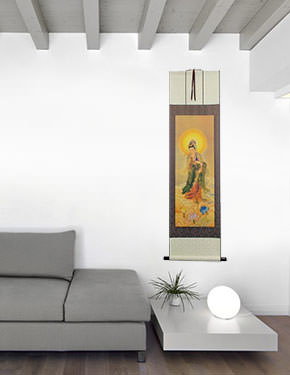 This artwork will look great in your home or office.
Guanyin - Goddess of Compassion
This wall scroll is designed to have a classic look (like an antique).

It should be noted that this is a print. It was printed using a $4000 HP DesignJet industrial printer on special handmade paper.

This wall scroll can be a great centerpiece to your altar, or as general decoration.

Printing this kind of artwork (instead of hand-painted) keeps the price of the artwork affordable. This would be more than 5 to 10 times more if this was all hand-painted.
The deity depicted is "Guanyin" or "Kuan Yin", the Buddhist goddess of mercy. This is the deity you pray to for various things, including a male child.
Note that I said "goddess" but actually, Buddhist deities are not supposed to have gender. It's just that Guanyin is often depicted with female characteristics.
This item was listed or modified
Oct 17th, 2021
Related and Recommended Items...