A Warm Welcome
Chinese Scroll


• Delivered to you in Ashburn by Dec 7th.
• Standard shipping is just $3.80 for any order.
• Sadly, this great artist passed away. This is his last calligrpahy piece like this.
• Hand-Painted Artwork.
• Handmade Wall Scroll.
• Money-Back Guarantee.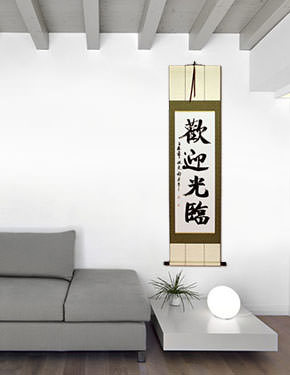 This artwork will look great in your home or office.
This wall scroll is discounted because of some minor stray specks of ink (very common with calligraphy - is it really a flaw?)...




Traditional Warm Welcome
This would be the ultimate Chinese "welcome mat". Except it will be on your wall, and people will not step on it.

In a somewhat literal translation, you could say it means, "I feel happiness as I welcome you, as you have brought a shining light to this place with your arrival" or in a more simple way, "I am happy you've come as your presents really brightens up the place".

It has become common for this greeting to be announced by the staff upon the arrival of any customer into a fancy store in China. You will also see these characters on the "welcome mats" in front of 4 and 5-star hotels in China.

Having this on a wall scroll is an extra nice touch. I have seen a few horizontal scrolls with this phrase on the wall behind the reception desk of better hotels, or near the front door of fine shops. At the fanciest department stores and restaurants in China, several greeters (almost always young women) will stand by the front door all wearing sashes with this phrase embroidered on them. As you walk in, they will bow and say "huan ying guang lin" to welcome you to the establishment.
This item was listed or modified
May 10th, 2021
Related and Recommended Items...