The name Catholic in Chinese / Japanese...
Buy a Catholic calligraphy wall scroll here!
Personalize your custom "Catholic" project by clicking the button next to your favorite "Catholic" title below...
---
---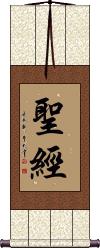 聖經 is how to write Bible in Chinese.

The first character means Holy, sacred, saint, or sage.
The second character means sacred book or scripture.

Each Sunday morning, if you are near a Catholic or Protestant Church, you will see plenty of Chinese people carrying their Bibles. Virtually every large or medium city in China has at least one Christian church. Beijing has about 14 Christian churches of Catholic and various Protestant denominations. That number doubles if you count all the church services that are for foreigners only and doubles again if you count all of the underground Christian Churches. Many Embassies (Canadian, Italian, French, etc.) offer Protestant and Catholic services. However, the U.S. Embassy is the most unfriendly in all of China, offering no such religious services, regularly denying entry, and kicking out Americans and others, whether or not they have official business.
---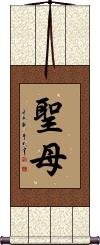 聖母 is the title for the Holy Mother, Madonna, or Virgin Mary used by Catholic Chinese, Korean, and Japanese people.

I think this would be a very cool wall scroll for a devout Catholic who also appreciates Asian artwork and language.

Note: Koreans often put a third character after these two, which creates a title that means "Hail Mary"; however, this character is not added or used in the same way in Japanese or Chinese. If you want that Korean title, just let me know, and we'll add that character for you. The two-character title shown to the left is universal, so I think it's the best choice.
God of Zion / God of Abraham

上帝 is how Chinese Christians and Jews refer to God, AKA The Judeo-Christian God.

There are Chinese Jews whose ancestry dates back to Jewish traders on the silk road. They are known as the Kaifeng Jews. Most have left China for Israel now.

There are also plenty of Christians in China of the Protestant and Catholic varieties. However, the churches are basically run by the government, and the Chinese Catholic church does not recognize the Pope.

Oddly, in my experience, I found the Chinese Protestant church to be much less political compared to Baptist and other Protestant churches that I have visited in America.

上帝 is also the typically-used title for God in Japanese.

While you may find this term in old Korean dictionaries, it is an obscure and rarely-used title for God in modern Korean.
---
See Also: Christianity | Jesus Christ

In short, 節制 or temperance is knowing when to say "when."

Temperance is the practice of moderation and restraint (in fact, this Asian word is often translated as moderation or restraint).

It was one of the five tenets held to be vital to society in Hellenic culture. It is also one of the Four Cardinal Virtues considered central to Christian behavior by the Catholic Church.
---
Note: Also considered to be one of the Seven Heavenly Virtues.

聖靈 is the title for the Holy Spirit or Holy Ghost as used by Jewish, Catholic, and Protestant (and other Christian) Chinese people.

And yes, Chinese Jews do exist, but there are not many of them.

The first character means Holy, Sacred, Saint, or Sage. The second means ghost, spirit, efficacious, or intelligence.

This is valid in Chinese characters and old Korean Hanja. This will be recognized in Japan but see the note below...
---

In modern Japan, they now use a variant/simplified Kanji of the second character of Holy Spirit. If you want this Japanese version, click on the Kanji to the right instead of the button above.
Joshua 24:15
This House Serves the LORD
Watashi to watashinoie to wa omo ni tsukaeru

私と私の家とは、主に仕える is the last bit of Joshua 24:15 in Japanese.

Joshua 24:15 (KJV) ...as for me and my house, we will serve the LORD.

Joshua 24:15 (NIV) ...as for me and my household, we will serve the LORD.



This came from the Shinkaiyaku Japanese Bible. This is the most commonly-used Bible translation in Japan for both Protestants and Catholic Japanese folks.

I think it is a bit like having a secret code on your wall that quietly expresses to whom you are faithful.

This will be a nice gift for a friend or a wonderful expression of faith for your own home.
---
Note: Because this selection contains some special Japanese Hiragana characters, it should be written by a Japanese calligrapher.
Chop Wood, Carry Water
Before enlightenment or after, chores remain.
dùn wù zhī qián kǎn chái tiāo shuǐ dùn wù zhī hòu kǎn chái tiāo shuǐ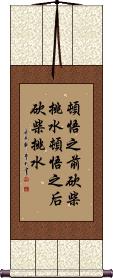 頓悟之前砍柴挑水; 頓悟之後砍柴挑水 means "Before enlightenment, chop wood, carry water; After enlightenment, chop wood, carry water.

This is a Chinese proverb that is attributed to 吴力 (Wú Lì) who lived between 1632 and 1718 - living part of his life as a devout Buddhist, and many years as a Catholic Jesuit Priest in China - what an interesting life!

This has been explained many times in many ways. I am a Buddhist, and here is my brief take on this proverb...

Before enlightenment, one may find daily chores mundane, tedious, and boring. However, upon reaching enlightenment one is not relieved of the details of daily life. An enlightened person will, however, see such chores as a joy, and do them mindfully.
---
There is another version floating around, which is 在你領悟之前砍柴、運水。在你領悟之後,砍柴、運水。
If you want this other version, just contact me. The meaning is the same, just different phrasing.
These search terms might be related to Catholic:
The following table may be helpful for those studying Chinese or Japanese...
Title
Characters
Romaji

(Romanized Japanese)

Various forms of Romanized Chinese
Catholic
天主教徒
tiān zhǔ jiào tú

---

tian1 zhu3 jiao4 tu2

---

tian zhu jiao tu

---

tianzhujiaotu
t`ien chu chiao t`u

---

tienchuchiaotu

---

tien chu chiao tu
Catholic
加特力
katorikku / katoriku
The Catholic Church
天主教會

---

天主教会
tiān zhǔ jiào huì

---

tian1 zhu3 jiao4 hui4

---

tian zhu jiao hui

---

tianzhujiaohui
t`ien chu chiao hui

---

tienchuchiaohui

---

tien chu chiao hui
Holy Bible
聖經

---

圣经
shèng jīng

---

sheng4 jing1

---

sheng jing

---

shengjing
sheng ching

---

shengching
Holy Mother
Saint Mary
聖母

---

圣母
seibo
shèng mǔ / sheng4 mu3 / sheng mu / shengmu
God of Zion
God of Abraham
上帝
joutei / jotei
shàng dì / shang4 di4 / shang di / shangdi
shang ti / shangti
Temperance
節制

---

节制
sessei / sesei
jié zhì / jie2 zhi4 / jie zhi / jiezhi
chieh chih / chiehchih
Holy Spirit
Holy Ghost
聖靈 / 聖霊

---

圣灵
sei rei / seirei
shèng líng

---

sheng4 ling2

---

sheng ling

---

shengling
Joshua 24:15
私と私の家とは主に仕える
Watashi to watashinoie to wa omo ni tsukaeru
Chop Wood, Carry Water
頓悟之前砍柴挑水頓悟之后砍柴挑水

---

顿悟之前砍柴挑水顿悟之后砍柴挑水
dùn wù zhī qián kǎn chái tiāo shuǐ dùn wù zhī hòu kǎn chái tiāo shuǐ

---

dun4 wu4 zhi1 qian2 kan3 chai2 tiao1 shui3 dun4 wu4 zhi1 hou4 kan3 chai2 tiao1 shui3

---

dun wu zhi qian kan chai tiao shui dun wu zhi hou kan chai tiao shui
tun wu chih ch`ien k`an ch`ai t`iao shui tun wu chih hou k`an ch`ai t`iao shui

---

tun wu chih chien kan chai tiao shui tun wu chih hou kan chai tiao shui
In some entries above you will see that characters have different versions above and below a line.
In these cases, the characters above the line are Traditional Chinese, while the ones below are Simplified Chinese.
Many custom options...




And formats...



Successful Chinese Character and Japanese Kanji calligraphy searches within the last few hours...
All of our calligraphy wall scrolls are handmade.
When the calligrapher finishes creating your artwork, it is taken to my art mounting workshop in Beijing where a wall scroll is made by hand from a combination of silk, rice paper, and wood.
After we create your wall scroll, it takes at least two weeks for air mail delivery from Beijing to you.
Allow a few weeks for delivery. Rush service speeds it up by a week or two for $10!
When you select your calligraphy, you'll be taken to another page where you can choose various custom options.
Check out my lists of Japanese Kanji Calligraphy Wall Scrolls and Old Korean Hanja Calligraphy Wall Scrolls.
Some people may refer to this entry as Catholic Kanji, Catholic Characters, Catholic in Mandarin Chinese, Catholic Characters, Catholic in Chinese Writing, Catholic in Japanese Writing, Catholic in Asian Writing, Catholic Ideograms, Chinese Catholic symbols, Catholic Hieroglyphics, Catholic Glyphs, Catholic in Chinese Letters, Catholic Hanzi, Catholic in Japanese Kanji, Catholic Pictograms, Catholic in the Chinese Written-Language, or Catholic in the Japanese Written-Language.
63 people have searched for Catholic in Chinese or Japanese in the past year.
Catholic was last searched for by someone else on Aug 25th, 2023